Originally published on Techwire: Microsoft Viva Connections Elevates Your Organization's Use of Teams & SharePoint Online
For many State of California organizations, Microsoft Teams (Teams) and SharePoint Online (SPO) are centerpieces of their organizational collaboration and productivity. Did you know Microsoft Viva Connections creates a Teams and SPO connection by bringing your SPO home site directly into Teams and creating a unified platform for your users to experience and engage with the best features of both applications?
If leveraging your Microsoft 365 (M365) investment to enable your community to be productive is important to you, implementing Viva Connections will elevate your offering in these important ways:
Create a Bridge Between Your Content and Your Community
SharePoint Online is known as the "content management hub" of M365, and modern features like built-in news and content rollup have made content production more intelligent. However, most users mostly likely spend their day interfacing with the powerful communication features in Teams to stay connected to their coworkers. This means they may be missing out on important content living in SPO.
Viva Connections is the bridge that surfaces your SPO content to your Teams community. The Connections module shows your home site as an app in the Teams navigation bar, so users directly interface with SPO inside of Teams and alongside working in channels, attending meetings, and making calls. Think of a home site like an employee intranet or portal – Viva Connections allows that employee portal to be the first thing your users see when they rev up Teams at the beginning of the workday. Even better, when they visit the home site, users can see familiar navigation and access directly in Teams all their favorite and frequently visited SPO sites, pages, and news using the built-in SharePoint app bar.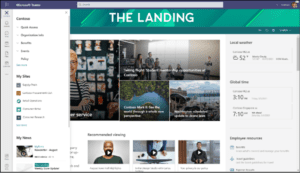 Promote Content from Across M365
The SPO home site is the foundation of the Viva Connections module and is no ordinary SPO site. In fact, a home site has smart features that help you elevate content and laser-target your community with the pieces of information you want to promote and let them experience that content within Teams.
A home site is an authoritative, organizational news site. SPO news published from this site gets a special visual indicator and is prioritized wherever it appears. Viva Connections helps high impact SPO news be seen in Teams by making news from the home site show up first.
The home site comes with a dashboard feature that gives employees access to critical information and tools. Using the authoring dashboard, you curate interactive, dynamic, audience-targeted cards that contain or link to content. This means that Viva Connections lets you highlight and prioritize interactive information and display it to targeted audiences in Teams.
The home site also is fitted with a feed feature, which tailors to each user targeted and even scheduled information from SPO News, Yammer, and Microsoft Stream on SharePoint. You boost, promote, and audience target information from these sources, and it automatically appears in the Connections feed in the appropriate places. In this way, Viva Connections integrates relevant information directly into Teams from M365 applications like Yammer and Stream.
Viva Connections is an easy opportunity to leverage – because you already own it! The Connections module is generally available to all customers as part of your existing Microsoft 365 and SharePoint license, at no additional cost.
Planet will help you maximize the effectiveness of your Connections implementation with an adoption campaign that includes curation training, audience communications, community engagement, and end user skills building activities. We will teach your community how to connect and be productive within the Viva Connections space.
Contact Jen Dodd at jdodd@go-planet.com and schedule a discussion to start your Viva Connections implementation.