Firm continues an unprecedented run as the dominant Microsoft services company for government!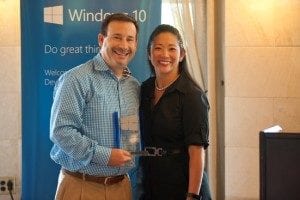 GERMANTOWN, MD (PRWEB) AUGUST 11, 2015 – Planet Technologies was selected as the 2015 Microsoft State and Local
Government Cloud Partner of the Year last week at the Microsoft Public Sector ISU (Industry Solutions University) conference held in Nashville, TN. This announcement comes on the heels of Planet being awarded the 2015 Microsoft Windows Partner of Year just three weeks prior at the Microsoft Worldwide Partner Conference.
"Planet's experience in supporting government with Microsoft Office 365, Azure and Windows is unparalleled" states Planet President and CEO Scott Tucker. "Our business is geared toward cost effective Microsoft cloud services in the areas of productivity, mobility, and analytics. We are honored that Microsoft considers us the best in class consulting company for the cloud."
Over the past decade, Planet Technologies has amassed Five Microsoft State and Local Government Partner of the Year awards, Six Microsoft Federal Partner of the Year awards, and Five Microsoft Windows Partner of the Year awards. "We know Microsoft", says Steve Winter, Vice President, "and we also understand the dynamics of government and how to effectively support the needs of our customer base. A winning combination."
"Our award winners showcase the best work taking place to bring about transformation in government, healthcare and education," said Vince Menzione, General Manager of Microsoft's U.S. Public Sector Partner business. "The Partner of the Year achievement recognizes Planet Technologies for an exemplary commitment to Microsoft and to the public and private sectors."
About Planet Technologies
Planet Technologies, the leading Microsoft services and cloud solutions partner, provides integration and customization of Microsoft technologies for federal, state and local government and commercial clients. Visit us at http://www.go-planet.com and on Facebook, Twitter and LinkedIn.