Cybersecurity Means Mission Readiness
Cybersecurity is a journey, not a destination! Many federal organizations are looking for a trusted partner that can help guide, recommend, implement, and leverage all the cybersecurity features and capabilities that they already own. With 25 years of experience, Planet Technologies is ready to be that guide for your federal agency!
Planet's Services Offered:
Planet's Zero Trust Program
Planet's unique evaluation system will quantitatively evaluate the customer's current Zero Trust maturity level across 40+ data points. Then Planet will develop a roadmap to further establish the Zero Trust Maturity and continue to improve and elevate the organizational security posture.
Enterprise Cloud Readiness
Planning and Discovery
Educate and Evaluate
Deliver a Plan
Rapid Modernization Program (RAMP)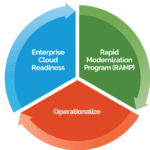 Prioritize
Plan into Action
Operationalize
Develop your Ops Plan
Educate your Ops Team
Refine your Dashboards and tools
Establish clear roles and responsibilities
GSA Contract #: 47QTCA19D0036
For More information — Contact Planet
Compliance
Cybersecurity tools are only one part of the journey. Compliance is a must for all Federal organizations and Planet has the knowledge to help. Planet's experience includes a deep understanding of FedRAMP, CMMC (Planet is a CMMC-RPO), and the NIST cybersecurity framework. What makes Planet different is our ability to combine this domain knowledge with our deep technical expertise of the Microsoft platform along with our deployment and managed security service offerings.
Compliance Expertise and Workshops

NIST 800-171 and 800-53
ITAR
CJIS
DFARS
HIPAA
IRS 1075
CMMC-AB RPO

Security Assessments and Workshops

Secure Score
CMMC and NIST-based Security Risk Assessments and Gap Analysis
MS Purview (e.g., Secure Score, eDiscovery, Compliance Manager)
Shadow IT
Windows 10 and Windows 11
Zero Trust Enterprise Cloud Readiness (ECR)
GSA Contract #: 47QTCA19D0036
For More information — Contact Planet
Secure and Protect Your Threat Landscape with Planet's Enterprise Cloud Readiness Program
The Planet Modern Workplace Security Enterprise Cloud Readiness program will evaluate your existing security capabilities and educate you about things you probably already own. Planet will review current licensing and make recommendations about additional things you may want to consider as part of your overall security strategy.
Analysis includes the following:
Assessment
Learn Existing Environment
Microsoft & Non-Microsoft Toolsets
Gap Analysis
Security and Threat Analysis
Existing Component Overview
Microsoft MWP Analysis
Review All Security Components
Validate Existing Value
Current Security Posture Results
Advanced Component Deep Dive
Discuss Security Components Needed
Demo Components & Usage
New Security Posture Education
Highlight Technology Benefits
Project Closeout
Completion of Deliverables
Microsoft MWP Security Road Map
Workshop and Review All Phases
Implementation of Recommended End-State
GSA Contract #: 47QTCA19D0036
For More information — Contact Planet