Originally published on Techwire: Getting Started: Microsoft Power BI Deployment for the Enterprise 
Many Government organizations in California recently acquired Microsoft 365 GCC G5 licensing for the advanced security and compliance benefits. However, one of the most popular tools for nontechnical business users is Power BI. Power BI is the business intelligence platform with tools for aggregating, analyzing, visualizing, and sharing data. If your end-users are not already clamoring for Power BI, they likely soon will be. How do you prepare your organization for the potential tsunami of requests?
Power BI Enterprise Deployment Considerations
Deploying Power BI in a large organization is a complex task that requires a lot of thought and planning. Getting proper guidance and best practices can help you understand the choices you will make, gather requirements, and learn best practices that can make your Power BI enterprise deployment a success. It is important to address the following core topics:
Planning and Roadmap – how to go from Admin-led to self-service over time?
Usage Scenarios – What does the business require?
Data Source Considerations and Preparations – What about shared data sources?
Governance and Administration Roles and Responsibilities – What is possible vs. what is allowed?
Licensing and Roll-out Options – Which licenses for which users?
Adoption and Training Planning – If you build it, will they come?
Development Guides for Users – How to mature the organization with Power BI
Learn how Planet Technologies Power BI Development Guide can help your organization have a successful Power BI enterprise deployment.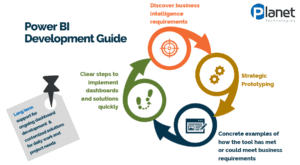 Planet provides a FREE webinar on Power BI for the Enterprise. For more information contact Jennifer Dodd at jdodd@go-planet.com