Do you flinch when thinking of migrating file shares to the cloud? Straddling file shares, email and OneDrive / SharePoint / Teams imposes a terrible tax on file collaboration. Switching context is exhausting. You do realize you are paying twice for file storage by postponing your move? There can't be a true cloud adoption when a large part of your files are still on premises in file shares.
Explore how to overcome inertia, retire legacy solutions and boost cloud adoption like never before.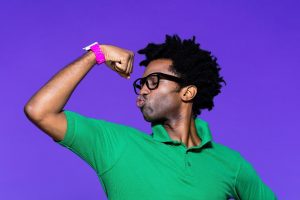 We rushed to empower our organizations with Teams. The pandemic forced our hand. Chat and meetings benefited from modern tools. File collaboration? Not so much. Most were never made aware of the superpowers of cloud-enabled files. Access anywhere on any device is a good start. Co-authoring is a step up from locked files, version control avoids duplicates, and permission management is not only an IT privilege anymore.
And even if we were made aware of the benefits, these reasons may not have been compelling enough to go against the grain and move our key files since the file share is still available. Some brave enough to experiment realize it is the better way to work but shrink away from the task of gaining consensus from the team (and beyond!) to make the shift permanent.
Cloud adoption reaches a plateau all too often because folks still have file shares as an option.
Review Attachment Analytics
Using the Microsoft 365 usage reports, you will see the amount of email attachments replicating files all over your network. When people rely on email attachments, it's like a bad Oprah meme, everyone gets a version!
Listen and Reflect
Invite a conversation to genuinely understand current frustrations and ideal dreams related to working with files. Knowing what is needed goes a long way. These conversations can take the shape of interviews (try Bookings with Me to curate times) or scale with a survey (). Open-ended questions invite responses and insights that often reveal the stories behind behavior patterns.
Retire
Consider read-only for a time. Recoup the costs. Explore business processes that are supported by file shares. Most clients do not have ample cloud storage to simply lift and shift everything in the file shares.
While evaluating the current content that is stored on the file shares, it is important to evaluate the content that should and should not be transferred to the cloud environment. Designate files as either active or archivable. Advocate for active files be in the cloud, no VPN necessary. Archivable files that may need to be referenced occasionally could stay on file shares. Consider applying content lifecycle principles to files in order to make the move more manageable. Redundant, obsolete or trivial files don't need to make their way to the cloud.
Depending on the above situation, the organization will need to classify the file server content and define the best place for the content to be stored based on activity and need.
Governance is the Backbone of Collaboration
The lack of alignment in how people work with files is often a source of frustration and file duplication. Spending endless hours to find a document or the latest version is very often the result of attempting to collaborate with Outlook and attachments. There is a better way.
Choices about where to store files are made easier with solid principles. What opportunities do you have to introduce and reinforce these principles?
OneDrive is private and temporary.
Teams is shared and temporary.
SharePoint is shared and permanent.
Education is the Muscle of Collaboration
Not only do you need to be sure your people are familiar with the Microsoft 365 tools, but you also need to educate them on the best practices defined by governance decisions.
Take the time to educate people on how they can leverage Teams and channels to collaborate on documents, even using file explorer to navigate the files like they were used to with file shares. Integrating cloud
Security
Another benefit of moving files to the cloud is that protection and recovery from Ransomware is built right into the O365 eco-system. This is a huge win over on premises file shares.
See
Malware and ransomware protection in Microsoft 365
Ransomware detection and recovering your files
Permissions
OneDrive is the ideal place to migrate a personal drive. Sharing is done in an ad hoc manner. Five or fewer collaborators is a good rule of thumb to trigger a decision on whether the file ought to be in Teams or SharePoint.
Teams is a group-based model of sharing. Any member of the team has equal access to files. Office files shared in a team may benefit from an extra precaution like opening in view mode and making the act of editing more intentional.
Content that is migrated to Microsoft 365 groups or Microsoft Teams should be managed within the context of those services. Such as if you are migrating data to a library tied to a Team, assign members and owners within the Team which flow down to the documents. Sites that are not group connected, at times are more managed. Active Directory Security groups, the organization may already have, might be used for more permanent sites. Whereas individual, explicit user permissions might be best for more dynamic sites. There are many considerations such as number of supported groups a user can be a member of, the number of unique permissions allowed within a site or library and overall usability along with business requirements all drive the decision to unique permissions or group-based permission assignment.
Optimize the Files Experience
Evangelize the advantages of using metadata / columns to keep files organized. Supercharge knowledge management with Viva Topics which blends the best of human curation and artificial intelligence pattern aggregation. Don't forget to "Add Cloud Storage" and "Add shortcut to OneDrive" to keep key files at people's fingertips.
Case Study: The Academy Research Council at a prestigious institute of Higher Education
In response to complaints about not being able to find relevant files (which were ported directly into Teams from a file share), the council embraced a SharePoint site to curate and organize official artifacts with metadata and left Teams files for unstructured collaboration. Academic Year was an important dimension as was the type of file (meeting product, governance, voting orders, etc.). Older Teams files are auto archived to keep that space free from distractions. The results? No more fumbling through folders to find key information. Views of a flat file structure give the right amount of structure to find anything in an instant.
Strategies to Move Your File Shares to the Cloud
There are different strategies and tools to move your files to the cloud. A survey can help you to fine tune your strategy.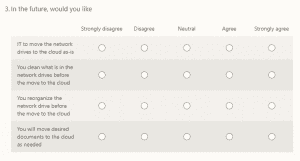 You would need to analyze the pros and cons of your strategy to make a well-informed decision.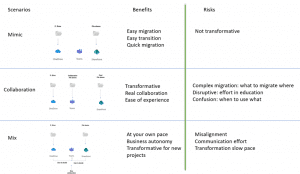 What is important to know in a technical file share migration
Microsoft over the years has made large changes to what technically can be migrated to Office 365.  First to address is what is technically capable of existing within Office 365:
25 TB per site
30 million objects in a library
250 GB limit of per file size
File paths should be 400 characters or less
Consider system names such as:

Unable to have a folder in root of library called 'forms'
Folder names cannot start with tilde or files named "_vti_"
Files/folders cannot use .lock, CON, PRN, AUX, NUL, COM0 – COM9, LPT0 – CPT9 or desktop.ini
For a full list of limitations reference the following links:
Once the technical scope has been determined, usability has to be considered.  Just because you have 29 million objects in a library and the limit is 30 million, you really need to rework it.  Any sort of administration will be a struggle and some events such as sharing begins to become unavailable.  Working with the people is key to ensure success and understand how they are utilizing content.
Conclusion
Again, there is no true cloud adoption if part of your files is stored on premises (file shares).
All the collaboration has to happen in the cloud if you do not want people to stay with their unhealthy habits like sending gazillions of emails with attachments. By the way, they were not bad habits at first.
A file share migration to the cloud needs to be orchestrated with people, should align to governance and best practices adopted by all, and leverage technical tools. Aid people to move their files properly and constantly educate / evangelize to be sure everyone understands how to better leverage the cloud. Everyone (individuals, teams, IT, the organization) is desperate to realize the full benefits of modern file collaboration.
At Planet we provide all the assistance needed to support a successful digital transformation journey based on our technical and organizational change experience (over 100 successful file migration projects).