It's official, the workplace is not returning to the pre-pandemic status quo. Businesses have been trying to establish what the future of work will look like, and they still don't have a full picture. However, we know that hybrid work is here to stay. While this might have generated excitement in 2020, now that the dust has settled, employees are challenged with balancing productivity, career growth, and mental health – all from their living rooms.  
As of late, we have seen an explosion of meetings, a resurgence of silos, a sprawl of content, a spike in burnout, and the rise of the "great resignation." Now more than ever, prioritizing the employees' experience is essential. In fact, a recent Forrester study shows that 90% of employee respondents indicated that a comprehensive employee experience solution would be valuable or extremely valuable. This means that organizations now need to adapt and find new ways to support their employees.  
At Planet Technologies, we believe that technology can help everyone achieve their goal, and Microsoft Viva is a great tool for organizations aiming to prioritize the employee experience for their people. 
In general, Viva is designed to extend Microsoft 365 capabilities and bring them together in one place, which often happens now in Teams. Viva can help your organization implement four pillars of transformation: 
Viva Learning:

A centralized learning hub in Teams that lets you easily integrate learning and building skills into your workday. In Viva Learning, your team can discover, share, recommend, and learn from content libraries provided by both your organization and its partners.

 
Viva Connections:

A gateway to employee experiences, with the ability for your organization to curate the content and tools you want to deliver through quick access to data and tasks, relevant news, communications, people, and resources.

 

Viva Insights:

Includes a Teams app, web features, and tools that help your people and business thrive with data-driven, privacy-protected insights, and recommendations to improve productivity and wellbeing.

 

Viva Topics:

Uses AI to automatically search for and identify important topics in your organization. It compiles information about them, such as a brief description, people working on the topic, and sites, files, and pages that are related to it.

 
From leveraging AI to find relevant information based on interest or past interactions to gathering behaviors and making recommendations, Microsoft Viva provides users with valuable insights that bring ease to their workday.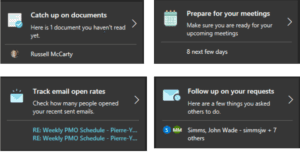 So, now that your organization is ready to invest in the employee experience with Microsoft Viva, where do you begin? 
First, I would recommend not trying to implement all four components (Learning, Connections, Insights, Topics) at the same time, since they address unique needs. You can eventually manage the four components in one project divided into four workstreams. 
So, how should you manage each workstream? 
  Here are my recommendations. 
Microsoft Viva: How To
Viva Connections
Set a project team with IT, business liaisons, communication team, champions team, organizational change management (OCM) team, and appropriate stakeholders.

 

Define the roles and responsibilities.

 

Identify what should be in your intranet including news, communities (Yammer) and content.

 

Select what audience you wish to target and what applications you want to present to a specific audience. To achieve this step, I highly recommend conducting interviews with department stakeholders (managers or business liaisons and even a panel of end-users).

 

Design and/or modernize your intranet (if you are not using SharePoint modern pages it won't work).

 

Build your intranet or the missing parts (Adaptive cards, communities, news, etc.).

 

Test drive Viva Connections with a panel of pilot users. To do that, you will have to first select them, explain what you are expecting from them, and what they can expect from the project team. You will also need to deploy the Teams Viva Connections app only to pilot users which might require some administration Teams skills.

 

Then, it is time to make some adjustments based on pilot users' feedback.

 

Prepare your communications before launching this to all your staff. Don't forget to highlight "What's in it for me" from the end-user perspective.

 

Launch!

 
*I don't think there is a huge need for training here, as it's mostly about awareness. Still, you will need an OCM plan. 
Viva Learning
Set up a project team with IT, HR, organizational change management (OCM) team, and appropriate stakeholders.

 

Define the roles and responsibilities.

 

You might want to interview some managers to identify what courses are needed. You might also want to interview or survey the end-users to identify what skills are the most needed for their job and growth.

 

Then, build a strategy based on integrating what is missing from the user experience.

 

If you have an LMS that can be integrated with Viva Learning, configure Viva Learning to surface this LMS.

 

If you want to add your own training content, work with IT so they can incorporate the content to be surfaced by

Viva Learning through SharePoint

.

 

Assign licenses.

 

Work with managers to explain what courses are available and help them to understand how they can promote and track some courses in the flow of their teammates' work.

 

Build a communication plan on "Why and How to use Viva Learning" so people understand not only their interest, but also how their peers can leverage Viva Learning. The word of mouth is often more powerful than a prescriptive approach. Be sure people understand that they can recommend to their peers training they found valuable for their job.

 

Launch!

 
Viva Topics
Set a project team with IT, business liaisons, organizational change management (OCM) team, and appropriate stakeholders.

 

Define the roles and responsibilities.

 

Identify first what you want Viva Topics to crawl. There might be areas you want to exclude like sensitive projects or sites with sensitive information.

 

In the meantime, work with the business liaisons to identify the sources of information to crawl and which topics they would love to see to ease their work. 

 

Let Viva Topics crawl (it can take up to two weeks depending on the volume of information).

 

Once you get your topics, the heavy work starts. AI eases this first step but needs the help of knowledge managers to make it valuable for users. 

 

Assign licenses and roles to some of the topic's viewers, contributors, and knowledge managers who will be involved in the pilot.

 

You need then to curate those topics. To do so, focus on the topics you were expecting. 

 

Search them, confirm the ones that are accurate, edit them and enhance the topics card before publishing them

If your expected topic is not there, don't panic. Create it with the appropriate sources so AI can catch up and bring you some resources you might have forgotten. AI needs to be helped by humans to become smarter.

 

Here you will need to educate your business liaisons on how to curate a topic.

 

Once you are done with the pilot with enough topics curated and published, you can deploy Topics to the rest of your organization with some awareness of the benefits and the use of topics. There is no need to train end-users beyond the contributors and knowledge managers (

Roles in Microsoft Viva Topics | Microsoft Docs

).

 

 
Viva Insights
Set a project team with IT, HR, organizational change management (OCM) team, and appropriate stakeholders.

 

Since some information can be sensitive, you need to select the

people

who are going to access leadership insights cautiously.

 

Work with HR to identify what you can import from your HRIS system since Viva Insights needs some data to do the job (like people's names, email, manager, etc.).

 

Then, work with the different stakeholders to decide which indicators you want to build.

 

Assign licenses.

 

When you see the Insights, especially the leaders' Insights, you will need to build a strategy to decide how you are going to act on it.

 

You might need to add a survey to better understand the root cause of what you see in the Insights (too many meetings, not enough one/one with managers, too many silos), but also you will need to have interviews with some representative users and managers to get the storytelling behind the numbers and then build a strategy.

 

Most of the time, acting on those numbers requires a cultural change strategy that is supported by your leadership team and that gets the buy-in from the managers and staff.

 

Build an OCM strategy based on those findings to include awareness and education, so people understand the benefits of changing habits (shortening meetings, leveraging Teams to communicate instead of email and meetings, transparency by default, etc.).

 

You also might want to start to educate users on immediate benefits of personal insights since they might not see all of them in Teams and in Outlook.

 

A final point is to be sure to reassure your staff about their privacy regarding the use of those insights.

 
Ultimately, the first question you need to answer before starting a Microsoft Viva project is "What is the larger goal we are trying to achieve for the organization and for our staff through this project?"
This question might take you a long way.
As always, if you need assistance with any of the topics mentioned in this blog, contact your Account Manager, Cloud Strategist, or send an email to YouAlreadyOwnIt@go-planet.com. Each Microsoft Viva component needs to be approached with the right level of planning and strategy; to be sure that you bring the right level of support when deploying this technology, Planet is here to help.
If you want to discover more about Viva and how to deploy it, here are some useful resources:
My YouTube channel:
Microsoft resources: