We often think deploying Microsoft Teams for remote meetings is a successful digital transformation. Thanks to its own simplicity, Teams has seen incredible adoption and use rates- 2.7 billion meeting minutes each day and 115 million daily users. Some of us may have adopted Teams because it was easy, because it was quick, or perhaps it's just what we were given. You might be experiencing some meeting fatigue. Do you have too many meetings on your calendar each day? Do you feel like you receive too many emails each day? Consider how you might be able to adjust behaviors and work with some guidance to create an efficient and comfortable work style.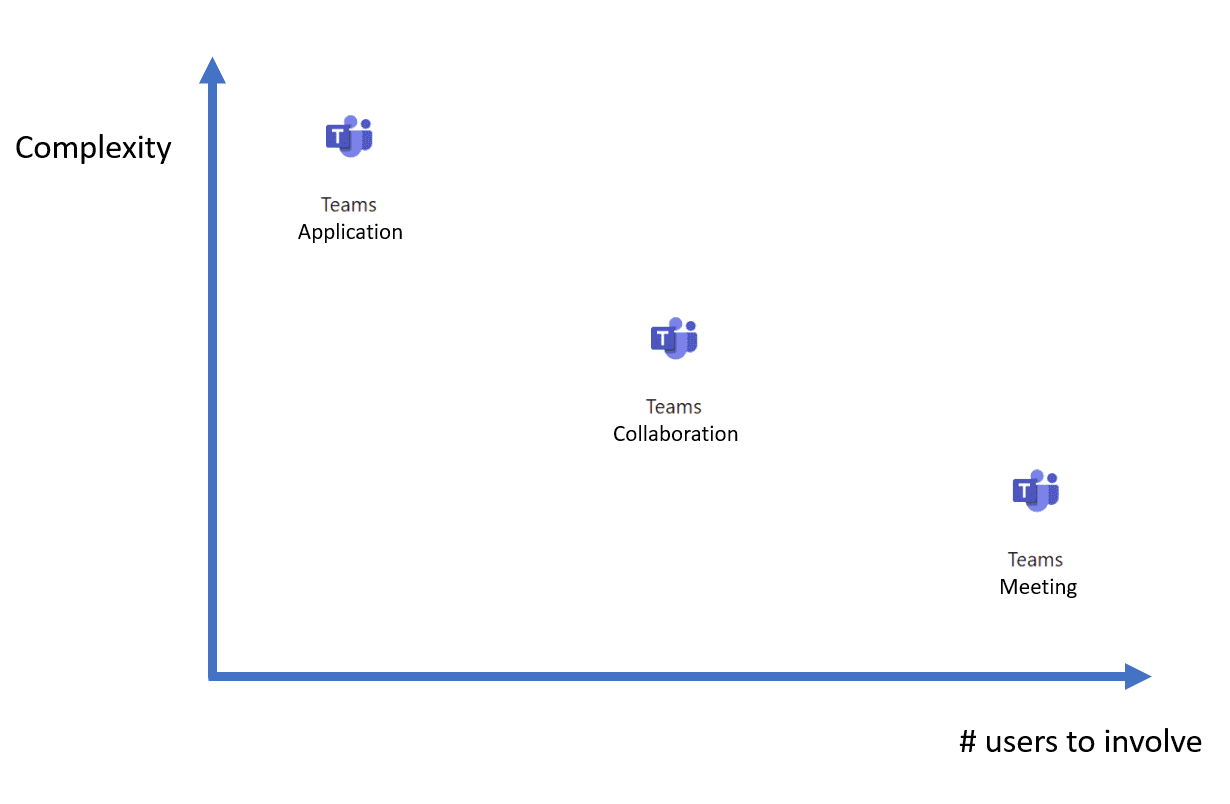 What about Teams for collaboration?
Teams is not just a chat and online meeting tool- it also provides the ability to collaborate on documents and bring in additional information to enrich the context of your materials.
One good example is the use of Teams to manage projects. Not only can you store your documents related to a project, but you can segment them into workstreams (channels) and use those channels to co-author the documents, add useful information related to the workstream like a list of tasks (Planner tab or Lists tab), add all of your notes (OneNote tab), a project roster (Excel tab), or a recorded meeting list (Stream tab). Most importantly, you can have conversations (posts) in a channel to ask a question, inform your team, or poll your team (Forms). All of this is available in one place and visible to all of the team's members. Goodbye, email tree madness!
Teams for collaboration is very powerful and because anyone can create a team, it can grow organically if you allow Teams to be self-service. With so much contribution, it is just important to think about how to stay organized. It takes time, effort, discipline, governance, and alignment to make Teams for collaboration a real success. The first blocker to Teams collaboration is the culture.
It's hard to align a whole organization while switching from an individualistic culture using Outlook to a collaborative culture using Teams. This is a cultural shift, because we need to change how we communicate. The communication is transparent, so we need to be reassured that a team can communicate safely without fear of being judged. The communication is around a common purpose or interest, so we need to gather the right people and explain the purpose and subject. The communication is not intrusive, so we need to understand how to follow what's important for us and accept that perhaps we will need to reconnect and clarify later. The communication is the same for every member of a Team, so we need to understand and agree on the best practices to communicate efficiently. A few examples might include @mentioning people or liking a message to acknowledge we read.
But with all of that said, I believe where we struggle the most is with the Team structure. When we use Outlook, we naturally organize emails the way we want (self-centric). We feel in control of how we manage information. The same thing can be said of OneDrive, which is the second most used Office 365 component after Outlook. With Teams, we need either to comply with organizational guidelines or we need to compromise collectively around how we organize channels, folders and more. Collaboration is all about compromise!
I believe that Teams for collaboration takes time, effort, alignment, experimentation, adjustment, and eventually strong leadership. Remember that Teams is not only about online meeting, chat and collaboration- there is more to it. Teams is a powerful environment which can layer business processes in the context of our work beyond the foundation of collaboration!
What about Teams as a Platform?
Imagine you are a physician working in a hospital and you meet with a patient in his clinical room. How you carry all the patient information with you is one thing, but what about asking a question on a specific item? Usually physicians carry a piece of paper and a phone, sometimes they have a PC they can use to access to the patient file. But it takes time to login, to search and it's complicated to get another specialist to answer a call. And even if the physician was sending a text, he could not send the patient context.
With Teams, you could first ask a bot to securely access patient information with your phone. Fine tune the information you're looking for without losing the patient context. Then, you can ask through a conversation in Teams a follow-up question to the right specialist on a specific dosage. The specialist might be able to answer a conversation more easily than a call and he would access to the same patient information in the context of the conversation (combining data and people expertise). This way you can be the most responsive to your patient and have immediate context.
It's a win/win situation for the patient and the physician. Use cases like that are abound for any industry. The main difficulty, here, is to identify and prioritize what to develop with a low code / no code approach or a real development approach. Microsoft claims that Teams & Power Automate & Power Apps is a citizen development platform where a low code or no code approach can help to develop business process driven apps quickly. I believe, it's somehow true, if we consider citizen developers as power users (like for Microsoft Access). So, how do you get started building a citizen developers environment? At a high level, here are my recommendations.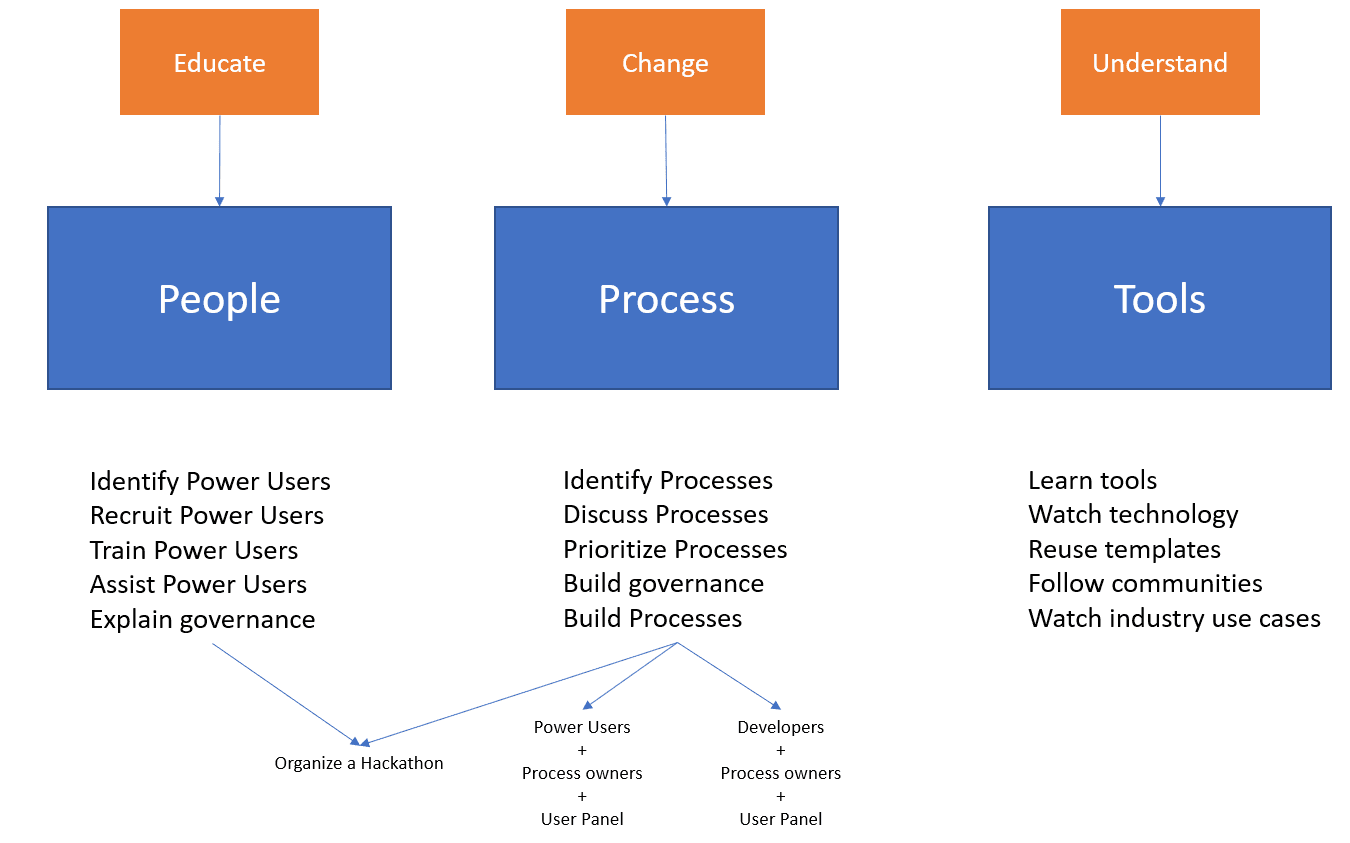 There might be a thousand business processes to be changed, or you might struggle to identify them because business users are not able to point at the meaningful processes that need a change. So, it's key to spend some time with the business users to understand their work and processes to be able to focus on the right process to change. To evaluate the priorities, I would recommend using the time saver criteria. The more you can save time for people, the better it is. But you need to also identify if it's feasible. There might be other criteria (quality, satisfaction, strategic…) to use, but I believe the time saver criteria is a good starting point.
(Green indicates high priority, red indicates low priority)
Once again, when it comes to collaboration or changing a business process, there is a huge need to gather power users and partner with IT to develop the best approach.
Whatever stage in Teams adoption you are, Planet Technologies can help you reach the next level. It's a matter of expertise, combined with experience, methodology and passion to help our customers.