Planet is part of the Transformation Twenty-One Total Technology-Next Generation (T4NG) enterprise contractual solution working with "Our Small Disadvantaged, 8a, Veteran Owned Service Disabled Small Business" Prime Partner Client First Technologies.
Contract Number: 36C10B-21-D-1035
Planet Contact: Director of Partner Engagement Doug Ross
Planet is the Leading Innovator in IT Modernization and Cloud Services
For 25 years, Planet Technologies has been the leading Microsoft services and cloud solutions partner for government. With Twenty-Seven Microsoft Partner of the Year Awards, we are true specialists in helping clients adopt and use the best of what they own in their Microsoft investments.
Look to Planet's Award-Winning Services to Modernize and Secure your IT Environment
Planet's Services Offered:
Cyber Security
Planet is supporting some of the largest Microsoft 365 deployments across government while integrating the right solutions to help meet organizational compliance requirements. We bring this wealth of experience and knowledge to every engagement. Planet has Microsoft experts in the following areas:
Microsoft 365 Advanced Security Workshops
Microsoft Operations Management Suite
Microsoft Identify Management and App Security

Microsoft Advanced Threat Analytics (ATA)

Microsoft Advanced Threat Protection (ATP)

Microsoft Enterprise Mobility + Security (EMS)
Planet has been recognized as the Global Security and Compliance Partner of the Year for the United States. We were the first certified Gold Partner in the country for Enterprise Mobility and Security and can guide you on the necessary tools needed to monitor, maintain and securely manage a Microsoft Office 365 environment.
For More information — Contact Planet's Director of Partner Engagement Doug Ross
Security Assessments
Planet will analyze the current state of your security posture, assets and workload. Cybersecurity tools are only one part of the journey. Compliance is a must for all Federal organizations and Planet has the knowledge to help. Planet's experience includes a deep understanding of FedRAMP, CMMC (Planet is a CMMC-RPO), and the NIST cybersecurity framework. What makes Planet different is our ability to combine this domain knowledge with our deep technical expertise of the Microsoft platform along with our deployment and managed security service offerings.
Compliance Expertise and Workshops:
NIST 800-171 and 800-53
ITAR
CJIS
DFARS
HIPAA
IRS 1075
CMMC-AB RPO
Security Assessments and Workshops:
Secure Score
CMMC and NIST-based Security Risk Assessments and Gap Analysis
MS Purview (e.g., Secure Score, eDiscovery, Compliance Manager)
Shadow IT
Windows 10 and Windows 11
Zero Trust Enterprise Cloud Readiness (ECR)
For More information — Contact Planet's Director of Partner Engagement Doug Ross
Information Systems Security
Certifications held by Planet Employees
Security+
CySA ++ (CompTIA)
ISC2 Certified Information Systems Security Professionals ( CISSP )
ISACA Certified Information Systems Auditor CISA
CMMC Registered Practitioners (RP)
Sentinel Advantage, Planet's Sentinel managed service offering, puts our threat detection & response team to work for you. The Planet team has extensive experience in deploying, configuring and supporting customer environments of varied sizes. Our Advantage service combines the benefits of Managed Sentinel with Extended Detection and Response, allowing for faster breach detection and remediation and deeper telemetry across your cloud, end user and IT environments.
For More information — Contact Planet's Director of Partner Engagement Doug Ross
Zero Trust
Planet's unique evaluation system will quantitatively evaluate the customer's current Zero Trust maturity level across 40+ data points. Then, Planet will develop a roadmap to further establish the Zero Trust Maturity and continue to improve and elevate the organizational security posture.
Enterprise Cloud Readiness
Planning and Discovery
Educate and Evaluate
Deliver a Plan
Rapid Modernization Program (RAMP)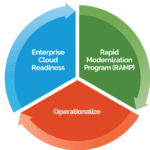 Prioritize
Plan into Action
Operationalize
Develop your Ops Plan
Educate your Ops Team
Refine your Dashboards and tools
Establish clear roles and responsibilities
For More information — Contact Planet's Director of Partner Engagement Doug Ross
Enterprise Cloud Readiness
The Planet Modern Workplace Security Enterprise Cloud Readiness program will evaluate your existing security capabilities and educate you about things you probably already own. Planet will review current licensing and make recommendations about additional things you may want to consider as part of your overall security strategy.
Analysis includes the following:
Assessment
Learn Existing Environment
Microsoft & Non-Microsoft Toolsets
Gap Analysis
Security and Threat Analysis
Existing Component Overview
Microsoft MWP Analysis
Review All Security Components
Validate Existing Value
Current Security Posture Results
Advanced Component Deep Dive
Discuss Security Components Needed
Demo Components & Usage
New Security Posture Education
Highlight Technology Benefits
Project Closeout
Completion of Deliverables
Microsoft MWP Security Road Map
Workshop and Review All Phases
Implementation of Recommended End-State
For More information — Contact Planet's Director of Partner Engagement Doug Ross
Agile/DevSecOps Consultants
Planet Technologies has a staff of experts in Agile and DevOps principles and practices with a proven track record of success.
Product and Portfolio Management using a scaled approach following SAFe Practices
One-click automated provision of Development Environments
Baseline CI/CD piplines focused on deliver and deployment options
Experience and certified in Scrum and Kanban practices
Practices Test Driven Development
For More information — Contact Planet's Director of Partner Engagement Doug Ross
Rapid Prototyping
Your users are pulling you toward a mobile-first, cloud-first world. Planet has taken the lead on mobilizing enterprise applications for our clients, enabling your team and customers to access data anytime, anywhere. Our applications are making a difference.
Planet Technologies Power Platform consultants work with developers, designers, and stakeholders early in the development process to ensure the application meets the needs of everyone. The consistent open feedback and collaboration results in a more efficient path from prototype to working model that can be thoroughly tested and customized.
For More information — Contact Planet's Director of Partner Engagement Doug Ross